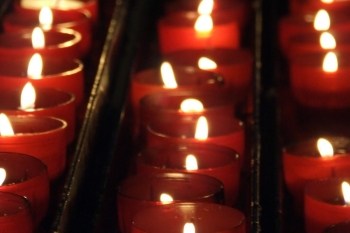 The sports world has been overcome with grief since the passing of popular ESPN anchor Stuart Scott on January 4, 2015. He died at the age of 49 after a 7-year battle with cancer, beloved by fans, athletes and colleagues at ESPN. Tributes to Scott have been pouring in through social media since the moment the news was released.
The death of such a high-profile media hero is one of those life-events that doesn't make sense to us on a rational level: why does such a good man, who gave so much and was admired by so many, have to die at such a young age? Death seems capricious and unfair when it snatches away someone with so much potential left to fulfill.
Many of Scott's supporters and fans had been hoping and praying that he would overcome the cancer that ravaged his body. Michael Jordan summed up this sentiment in his statement: "He fought so hard against cancer and I hoped he'd win the battle."
While this battlefield metaphor is one that may work well in sports, where there is almost always a winner and a loser at the end of the contest, it falls short when applied to an illness like cancer. Cancer has no rules, no time outs, no substitutions, no game clock—it operates by its own mysterious playbook that we have yet to master.
Our best defense against such an opponent is to look beyond the narrow view of "winning or losing" as an outcome, and to recognize that there is a higher path through illness: a sacred path that allows us to transform from being a victim of the disease to becoming a craftsman of our own life, using cancer as a tool for transcendence.
On this sacred path of illness there is no losing of the battle, only a refining and shaping of what really matters in life—of the ability to love and to live each moment with meaning. Stuart Scott made this point beautifully in his stirring speech at the ESPY's in July 2014: "When you die, it does not mean that you lose to cancer. You beat cancer by how you live, why you live, and in the manner in which you live."
The very fact that Scott came to this realization is evidence that he had transcended the illness that was slowly overtaking his body. He had found the sacred path that rises above the plane of physical suffering and had created a life of beauty, purpose, passion and love despite everything that cancer had thrown at him.
Stuart Scott managed to live life on his own terms in the face of devastating illness. In doing so he brought the rest of us the greatest gift he could ever give: proof that you can shape your own life with love, no matter what challenges come your way. Thank you Stuart for having the courage to walk that sacred path and show the rest of us the way—your light will shine on.
About the Author:
(Dr. Karen Wyatt is a hospice and family physician and the author of the award-winning book "What Really Matters: 7 Lessons for Living from the Stories of the Dying." She is a frequent keynote speaker and radio show guest whose profound teachings have helped many find their way through the difficult times of life. Learn more about her work at www.karenwyattmd.com.)
Categories: Death & Dying, Current Events, Transformation