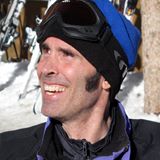 On July 1, 2014, my friend Matthew Bogue - Matteo - left this life after a long and courageous battle with MS. I met him 10 years ago when I was asked to interview him and write an appeal letter for the local agancy that was providing care for him at home. Here is an excerpt from the piece I wrote that sums up the impact Matteo had on everyone he met. Fly free Matteo - now you have your own wings!
When I arrive to meet with him, Matt is gazing out the French doors of his apartment at the birds flitting to and from his feeders and the chipmunks hastily gathering pumpkin seeds from a flower box. He displays quiet introspection which he explains was rarely seen in him a few years earlier in his life. His spontaneous laughter and teasing humor mask the suffering that eventually reveals itself during our conversation.
Still a young man of 38 years, Matt speaks longingly of his "ski bum" days, tearing down mountain slopes and couloirs, craving as much steepness and deep powder as any peak could present to him. Now bound to a wheelchair and unable to lift himself or stand, Matt was diagnosed with multiple sclerosis eight years ago as he passed the 30 year milestone.
He describes his initial denial: refusing to believe that any illness could bring him down, he traveled the world and hiked and skied every slope he could find, often without the aid of a chairlift. His vision was impaired as a result of his illness, but his body could still handle the turns and bumps and jumps required for backcountry skiing … at least for a few years. Then, with relentless progression, MS began to weaken his muscles, tearing him away from the sport he loved so much and "crushing his heart."
Matt spends his days now mostly in his apartment, cared for by his girlfriend, Krisann, who provides round-the-clock care for him at home. 
"Without Krisann I would be in a hospital or nursing home right now," Matt attests with passion, expressing his deepest gratittude. 
He breaks into his brilliant, infectious smile and then admiths that some days he cannot keep his thoughts from going to the darkest of all places, dwelling on the worst of all possibilities, dreading what the future might hold. But, he reminds himself in my presence, as he often does in the midst of his terror: "This is just how it is … this is what life is providing." These Zen-like moments of wisdom and acceptance have come to Matt at a high price: genuine suffering that even hours of meditation in a monastery are not likely to produce.
And then in the middle of our conversation, the roller coaster, which is how life with MS progresses, takes a sudden shift to the positive. Matt excitedly describes how he managed to ski seventeen days this winter on an adaptive skiing device he calls "the coffin". One volunteer from the Breckenridge Outdoor Education Center, sharing Matt's wild and free spirit, took him down the steepest slope he could find, as fast as they could possibly fly. With a look of pure joy on his face, Matt tells of the exhilaration of catching air, even in a device known as "the coffin."
But, just as suddenly, a tear emerges from beneath Matt's sunglasses. The roller coaster plummets again. I cannot, in the wildest reaches of my imagination, even fathom the news that I hear next: Matt's friend from BOEC, who brought "Matt, the mad skier" back to life, was killed recently by a drunk driver. I am still reeling from the story of this devastating loss when Matt adds that his dog, Miracle, a best friend through every up and down for fourteen years, also died in the recent past.
How can this be? How is it that one person who is already struggling to cope with massive loss in his life has even more taken from him? I cannot bear the weight of this sorrow – my heart is crushed. I sit in silence for a moment because there are no comforting words I can say. There is nothing I can do to take away this pain. A chipmunk runs across the deck with a pumpkin seed in its mouth. "This is just how it is … this is what life is providing," Matt breaks the silence with words that comfort me.
Then, Krisann, whom I have not yet met, arrives home after running an errand. As she walks into the room I can tell instantly that she is a very special person, an angel perhaps, if you believe in that sort of thing. The entire apartment fills with the light of her loving and kind spirit. This, too, is what life is providing. She is carrying an armload of puppy paraphernalia for the new dog she and Matt are going to pick up from the breeder in ten days. Life provides …
As I left the home of Matt and Krisann I thought of the phenomenon of transformation, where one thing is changed into something else. Trees and flowers transform, suffering transforms, and even people transform. I ask myself, "Did I really complain about having to drive in the snow again this weekend? But, I was driving, able to take myself from place to place without assistance. And was I actually annoyed when I had to stand in line for 30 minutes? But, I was standing, a feat Matt would trade a whole day for."
Matt, who apologized before I left for complaining to me, would probably not understand that he brought the gift of transformation to me. For, transformation functions secretly, in disguise, and when we are unaware of its presence. But, whether Matt can recognize it or not, on that special day, life provided me with a rare opportunity to transform through the power of hearing someone's authentic story. This is just how it is…
God bless you Matteo! 
Categories: Grief, Transformation