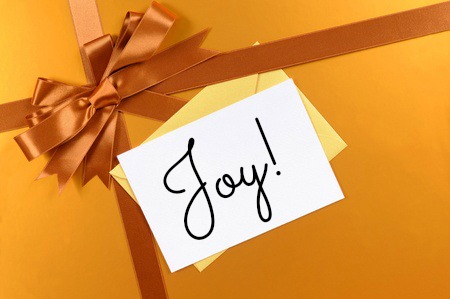 Another holiday season has arrived in the shadows of recent tragedy. Once again we put up strings of lights and hang decorations, we display Advent wreaths and Winter solstice greenery, we light menorahs and kinaras, and deliver gifts to our loved ones. But this year many of us are engaging in our traditional festivities with heavy hearts, laden with fear and uncertainty. Indeed it seems difficult to find joy in a world filled with visible suffering and hatred.
However this is the time when we need holiday joy and celebration more than ever. Now is when we must find the deepest possible meaning in our traditions and we must use that meaning to lift us up from our despair. This year we need to seek out and spread joy and love everywhere, to everyone.
In order to maximize our joy and love during this holiday season it is important to be intentional about our celebrations; to act with purpose and wholeheartedness rather than mindlessly going through the motions of our festivities. Here are some changes to help us find the joy we need during these special days:
1. Fewer cards, more conversations
Instead of spending a day addressing holiday cards and mailing out family photos, why not spend time on the phone, calling some of your out-of-town friends and family members to share your good wishes. Or pay a visit to your older relatives and let them see you face-to-face. You may not connect with as many people this way but the sentiments you share in a conversation will last much longer than those in a form letter.
2. Fewer decorations, more meaning
Take stock of your holiday decorations and be selective this year by putting out just half of the items you have stored. Add one more item each day so that your holiday displays change and grow throughout the month. By doing this you will spend more time appreciating each one of your mementoes and contemplating the memories and meaning attached to them.
3. Fewer gifts, more fun
Talk to your friends and extended family members about forgoing your usual gift exchange this year. Instead of spending time shopping, wrapping and mailing packages you'll have more free time for fun activities like dancing, playing games, singing carols, reading stories, assembling puzzles, or watching old movies.
4. Less shopping, more walking
If you give fewer gifts this year you won't need to do as much shopping, so the next time you visit the mall you can leave your wallet behind and just walk, enjoying the sights and sounds of the holidays, watching the people hustling and bustling, and looking for signs of joy and love. Better yet, try to walk outdoors and appreciate the stillness of winter as nature patiently awaits the return of the light.
5. Fewer parties, more "get-togethers"
This year have the courage to decline some of the usual holiday parties. Instead plan more dates with friends for coffee, lunch or a casual supper where you can talk and reconnect in a relaxed atmosphere, without over-indulging in food and drink. You can always make up for the skipped parties next year.
6. Less obligation, more kindness
If you are able to decrease some of your usual holiday obligations by cutting down on decorating, gift-giving, shopping, and parties you will free up more time to consider what you really value at this time of year. You may decide you want to use your time for acts of kindness like participating in a toy drive for needy children, or collecting food and clothing for a local shelter, or visiting lonely patients at a nursing home. These activities of giving to others in need, when performed with love, will bring you a sense of joy and gratification.
In the midst of this dark time, remember that each festival of the winter season, whether religious or secular, emphasizes the importance of light. In moving through the darkest days of the year we find our hope and inspiration in the twinkling lights all around us, in the sparkling eyes of our loved ones, and in the radiance of our own hearts as we spread love and joy everywhere.
May you find deep meaning in all of the days of this sacred season and be inspired to enter the New Year with an open heart and mind, ready for whatever life brings next.
About the Author:
(Dr. Karen Wyatt is a hospice and family physician and the author of the award-winning book "What Really Matters: 7 Lessons for Living from the Stories of the Dying." She is a frequent keynote speaker and radio show guest whose profound teachings have helped many find their way through the difficult times of life. Learn more about her work at www.karenwyattmd.com.)
Categories: Love