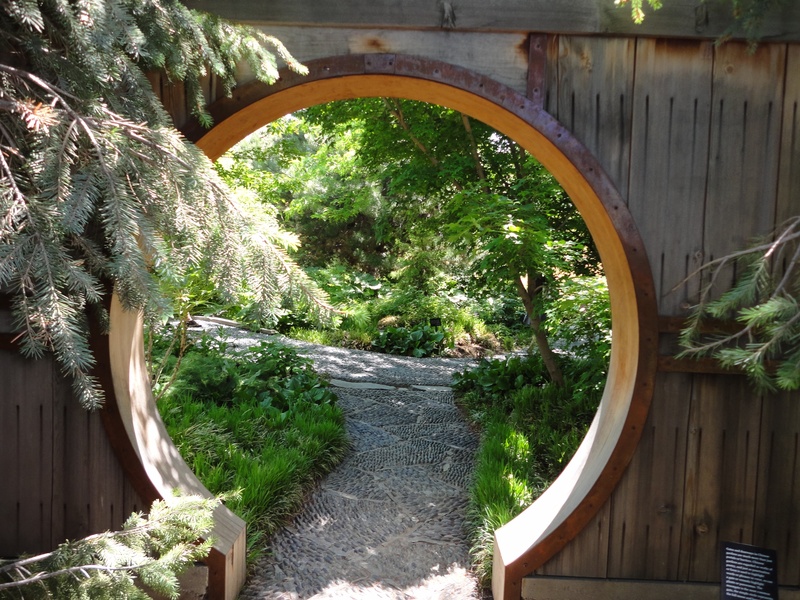 Have you ever felt inspired to go on a pilgrimage – to travel to a faraway sacred place to find inspiration or healing? Throughout human history various cultural and religious groups have conducted pilgrimages: journeys of faith to sacred places for the purpose of healing, penance, thanksgiving, worship or enlightenment.
All major religions and many indigenous cultures have maintained holy sites of special significance throughout the centuries so that pilgrims could journey and seek inspiration and illumination there. For example, Lourdes, France is a famous pilgrimage site for those of the Catholic faith and India and Indonesia are both home to many sacred places for followers of Hinduism and Buddhism.
If you feel a need to make a sacred pilgrimage but can't afford to travel to Europe or Indonesia, you can actually reap the spiritual benefits of such a journey by taking a mini-pilgrimage right in your own community. With a little research you will most likely find sites of breathtaking beauty and rich history near your home that can be spiritually uplifting and inspiring to visit.
Anthropologist Martin Gray has studied sacred pilgrimages and found that the most important characteristics of such a trek are the beauty or uniqueness of the site, the journey that is required to get to the site and the mindset of the spiritual seeker who undertakes the pilgrimage.
So keep those factors in mind as you read these tips for creating your own mini-pilgrimage and maximizing the benefits of this unique spiritual practice:
1. Decide when to go.
A journey to a sacred site can be beneficial to you during troubled times, when you need space for contemplation away from the distractions of daily life. You might be seeking guidance, comfort, healing or a breakthrough while you are on your trek. However, a pilgrimage can also be conducted during a time of great joy, to offer gratitude and devotion for the beauty of life and creation.
No matter when you choose to go on a mini-pilgrimage be sure to treat it as a special event in your life and take care to make plans and prepare in advance.
2. Choose a sacred site.
For your mini-pilgrimage it is most important that you choose a place that has spiritual significance for you. Consider whether or not you prefer to be in an isolated area or one frequented by other people. If you feel an affinity for mountains, water, forests, flowers or animals, those factors should influence your choice. You might also choose a place where you or a loved one had a special experience in the past.
For example, I have done pilgrimages to the top of a 14,000-foot mountain peak, to a local religious shrine, and to a nearby botanical garden. Each site had its own special significance for me and each pilgrimage accomplished different goals.
3. Set an intention before you go.
What would you like to accomplish on this spiritual trek? Being specific about the purpose of your mini-pilgrimage is important. (For example are you seeking guidance for a decision you must make, healing for a physical condition, resolution of a relationship problem, etc.)
Journal and/or meditate about the purpose of your journey for a few days before you go. Contemplate the issues surrounding your intention for the journey. What past wounds and resentments are you carrying? What work must you do in order to clear those away before you set out on your trek?
4. Be prepared.
Gather maps and be sure you know your route before you go. Make a list of items to bring with you such as cash in case you need it for an entrance fee, snacks, water, camera, journal and pen. Depending on where you are going, there might be other items you will need such as hiking boots, sunscreen, hat or raincoat.
5. Take your time.
During your journey walk slowly and thoughtfully toward your pilgrimage site, notice the details of the space around you and appreciate each sight, sound, smell or touch that you encounter. Breathe deeply and slowly and keep returning your thoughts to the intention you set for the journey. Stay open-minded and be willing for the unexpected to occur. Don't try to force inspiration to come. Just relax and allow it to emerge within you.
Force yourself to sit quietly in one place for more time than feels comfortable to you. The purpose of the pilgrimage is to remove you from the frantic pace and fragmented thoughts of your daily life. It takes time to let go of the stress and fully relax into the present moment, so don't rush this process.
6. Create your own ritual.
You may want to enhance your experience by listening to special music or you may prefer to just focus on the sounds of nature around you. If it is helpful to you, read some verses from a text that is sacred or meaningful to you and use them for meditation purposes. You might light a small votive candle as well to symbolize your quest for enlightenment, but only if it is appropriate to the space you have chosen and does not create a fire hazard.
7. Write in your journal.
Reflect on all that you are experiencing in the moment: senses, emotions, memories, questions, or concerns. Also record negative thoughts that arise or those things that bring you discomfort. However, don't force yourself to write. Allow things to flow and accept the outcome if no inspiration arises for you in the moment.
8. Conclude your journey thoughtfully.
When you feel the time is right to bring your experience to an end, spend a little time expressing gratitude for the opportunity to connect with this sacred space. Be grateful for every aspect of the journey, even those things that didn't work out as you had planned. Carefully pack away the items you brought with you for the journey and slowly make your way back to your daily life.
Again, walk slowly on your return journey. Notice how different things look from the perspective of leaving a place rather than arriving. Keep breathing deeply and slowly to remain in a relaxed state as long as possible.
9. Reflect on your experience.
Within a few days after you return from your pilgrimage review any entries you made in your journal during the experience. Continue to reflect on the intention you set for your journey: Do you feel you were transformed in any way by the trek? Did you receive an answer or more clarity for your life? Are there things in your life you will do differently in the future? What has been left undone that requires more work on your part?
Now that you have experienced one sacred pilgrimage you may want to begin planning another for the future. You will now have a clearer picture in mind of the type of site you prefer and which sacred elements you want to include in your next journey.
One of the biggest advantages a local mini-pilgrimage has over a long trek to a famous sacred site in a foreign country is that you can go on multiple adventures in one year. Of course, if you are fortunate enough to get to visit a holy place in another part of the world, remember that it is your intention that will make the experience meaningful and transformative for your life.
About the Author:
(Dr. Karen Wyatt is a hospice and family physician and the author of the award-winning book "What Really Matters: 7 Lessons for Living from the Stories of the Dying." She is a frequent keynote speaker and radio show guest whose profound teachings have helped many find their way through the difficult times of life. Learn more about her work at www.karenwyattmd.com.)
Categories: Spiritual Practice