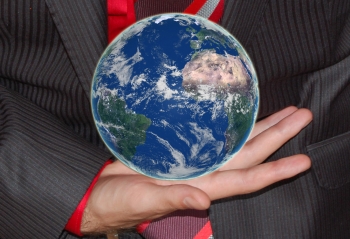 This New Year has already started off with a rush of energy—can you feel it? The economy is recovering, unemployment is on the decline and marriage equality is spreading rapidly throughout the U.S. Yet there's no time to celebrate these advances because the planet is still in a dire state of emergency with global climate change, political unrest, horrific acts of terrorism, worldwide poverty, and threats of a pandemic.
Your personal New Year's resolutions to lose weight or get your house organized may seem trivial when they are matched up with the problems of a world-gone-slightly-mad and on the verge of disaster. As a person of higher consciousness, how do you align your own life goals with the needs of the planet and feel you are making a worthwhile contribution?
From my meditations on the state of our world at this time in history I have an idea of the mindset and attitude shifts that are being called for—what we are now being asked to bring to humanity, the planet and the Universe. Here are my thoughts on what the world needs right now and how you can step up to make things better in 2015:
1. Creativity
More than ever the world needs you to become a creator in 2015. Each one of us contains the seeds of a "good idea" that can contribute to healing and transformation on this planet. Not that you must find the solution to global warming or single-handedly end starvation, but you must activate within yourself the unique creative spark you carry and give the world your contribution.
All of creation is waiting for the gifts you can bring to life by expanding your vision and freeing up your inspiration. Begin by examining all of your habits and routines: What can you do better? Where is there room for change? Feel the life energy that arises within you and allow yourself to change and grow—that is what is being asked of you in 2015.
2. Balance
If your life is at all out of balance you probably already know that and may be making excuses for yourself. This is the year that your denial must end. Perhaps you know that you don't get enough exercise or you watch too much television or you drink too much alcohol. Acknowledge this imbalance in your life and focus on finding equilibrium.
You don't have to make big changes all at once. In the beginning simply increase your exercise by 30 minutes each week, watch 1 hour less television each week, or give up alcohol one day per week. Keep your focus on being in balance and take small steps toward that goal. You will be contributing to the stability of life on this planet by maintaining your own healthy equilibrium—and that is desperately needed in this topsy-turvy world.
3. Collaboration
This is the year you must put aside your jealousy, competitiveness and rivalries to find common ground with others in your field. Solutions to our world problems will arise through synergy, cooperation and unity. We must relax our boundaries and open up our territory to others who can create with us.
Begin to see your rivals not as threats to your success but as the keys to fulfilling your highest potential. What is now true in this world is that only by working together with your peers can you achieve your ultimate purpose in life and bring about the "new earth" that is waiting to be born. Make a list of the competitors you fear the most and think creatively about ways you might work together on a project.
4. Integrity
Integrity can no longer be just a clichéd bullet point on your mission statement, but must be brought to life in a new way in everything you do. The word "integrity" comes from the Latin word integer, which means "whole and complete." Your goal for 2015 must be to become whole within yourself, to integrate your Shadow, your weaknesses and your failures to become as complete as you can be.
To promote integrity in the world you must be impeccably honest in your choices and act for the highest good of the whole planet as often as possible. Stop telling lies to others and especially to yourself. Each day in your journal write down the lies you have told (we all tell them much of the time), uncover the reasons why you lie, and understand what you will have to change within yourself to become more honest. Our world can no longer afford the burden of our lies and incompleteness. Moving toward integrity in our own individual lives will contribute to the wholeness of our entire planet.
5. Presence
This shift is really the key to all of the other changes you are being asked to bring to the planet in 2015. Presence means being fully aware and awake in each moment, right here, right now. It means bringing your whole self—body, mind and soul—to each and every activity your do, to every situation that arises for you. Presence is necessary for your creativity, because you can only create in this present moment; being present to what is happening now will help you to stay in balance and operate from integrity; and focusing on the present moment will alleviate your fear of competition and allow you to freely collaborate with others.
To cultivate your ability to remain in the present moment you must first heal the wounds of the past that keep dragging you back to old memories and resentments. You must begin a practice like mindfulness, yoga, meditation, contemplation, or prayer that trains your mind to focus on the here and now rather than jumping to the future or retreating to the past.
Increasing your ability to be in the present moment is really the only change you must make in 2015 to contribute to the welfare of the planet. All other growth and transformation will flow naturally once you bring your full attention to this moment.
As we face the uncertainty of this global emergency together, remember that it is really a time of emergence, when what is old and worn falls away to allow something new to come into being. There is nothing to fear and everything to rejoice in as we allow change to unfold before us.
Bring your gifts, open your heart and mind, embrace your own limitations and breathe deeply in this present moment—that is really all that is required of you for this remarkable year.
About the Author:
(Dr. Karen Wyatt is a hospice and family physician and the author of the award-winning book "What Really Matters: 7 Lessons for Living from the Stories of the Dying." She is a frequent keynote speaker and radio show guest whose profound teachings have helped many find their way through the difficult times of life. Learn more about her work at www.karenwyattmd.com.)
Categories: Current Events, Spiritual Practice, Transformation