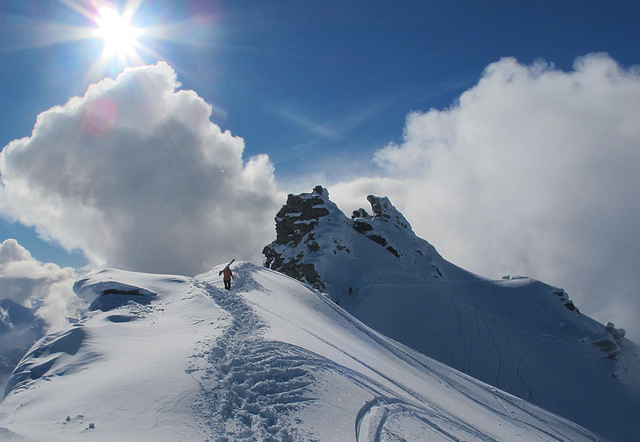 (Several years ago I worked with Matteo Bogue on a project to write a memoir about his skiing adventures. We worked on it for a few years, but because of his illness and events in my own life, we never completed the project.  Each chapter was going to begin with some of his favorite lyrics from the Grateful Dead. Here is the introduction as I wrote it, based on Matt's recollections.)
Chapter One: A Path Unfolds
"There is a road, no simple highway
Between the dawn and the dark of night
And if you go, no one may follow
That path is for your steps alone
…
You who choose to lead must follow
But if you fall, you fall alone
If you should stand, then who's to guide you?
If I knew the way, I would take you home"
-Robert Hunter & Jerry Garcia
There are moments in life that are considered "defining:" seemingly ordinary events that mark a transformation from what was before into all that is after; simple choices that irrevocably alter the course of one's life; slight actions that powerfully shatter old stereotypes and give birth to new images. Napoleon signals the battle to begin at Waterloo, Rosa Parks selects a seat on a Birmingham bus, and four airplanes take off from a Boston airport on one ill-fated day in September 200l: defining moments. Destiny is at hand.
For Matthew Bogue, the opportunity to redefine himself occurred on a sunny September afternoon in 1997. Standing on a windblown cornice of New Zealand's Treble Cone Mountain, facing down the steep descent of the Motatapu Chutes, he knew only two things: he was absolutely terrified of skiing alone down that icy couloir; and, he absolutely had to do it. As an extreme skier, Matt had faced many such challenging slopes before and was accustomed to sailing off cliffs and cornices, soaring over talus and jutting boulders, accelerating down narrow chutes at death-defying speeds. He knew well the tension between fear and boldness and the stunning exhilaration that results from balancing on the fine line down the middle. This, hurtling down the craggy face of God's most brilliant handiwork, was surely his destiny. He had known it for most of his life. But, on this day, with an ocean of cloudless blue sky coaxing him to dive, snow glistening like gems beneath his skis, his fear was so much greater than the present risk of the mountainside, his challenge so much more imposing than a 7,000 foot peak. For, Matt was battling the unknown, the mystifying disease Multiple Sclerosis, which had already claimed his eyesight. Legally blind, he was attempting to ski alone down a sheer mountain slope he could scarcely see. After a day of resort skiing, his two buddies had accompanied him to this ridge, at the top of the Motatapu Chutes, the backside of Treble Cone Ski Area, New Zealand. Encouraging him to challenge himself, perhaps hoping Matt would find his own path, his friends left him alone on that precipice to face his fear. And Matt, heroically, took the challenge. Pointing his skis down that glacial chute he maneuvered between boulders and bizarre protruding ice forms, which had been sculpted by freezing winds. Carving precise, short-swing turns on the narrow ribbon of ice crust, he made his way down the slope until he felt satisfied that he had gone far enough. Then, skis in hand, he hiked back up the very same path, only to ski down it again and again. Such is the nature of courage: to grab hold of fear and master it not just once, but over and over again. And such courage is exactly what is needed to live with a disease like MS, for the challenges are relentless and unpredictable, and you must pick yourself up time and time again. On that day, on the Motatapu chutes, Matt was a true hero, not because he was wholly courageous, but because he was wholly terrified, and did what was necessary anyway.
After his final climb back to the ridgeline, exhausted from his effort, Matt gazed out at the vast, blurry expanse before him and felt a rush of gratitude that he had survived this undertaking. Simultaneously he was overwhelmed at the reality of his vulnerability on the mountain and in his own life. Inundated with emotion, he dropped his skis and fell to his knees weeping. He choked out a prayer between his sobs, "What is going on, God? Everything is being taken away from me ... I'm watching it happen and I'm living it at the same time. What is the purpose, God? Why am I here?"
On his hands and knees, spent from physical and emotional exertion, Matt heard an answer to his prayer, from somewhere deep inside him and, perhaps, from far above. "This is your path. You must go through this. You are here to tell the story. You must tell your story."
In that moment, Matt understood thoroughly that he had a task to fulfill, an assignment to complete. Though he knew not where or how, he committed himself to some day finding a way to tell his story, which even now, continues to unfold before him. There are days when Matt cannot remember the message of the story he is to tell, days when he cannot fathom the purpose of this existence, and nights when he knows not if he can find the way home …
Categories: Suffering, Transformation